March, a month to celebrate the potential of women
March is celebrated as Women's History Month, a time to recognize and honor the contributions and achievements of women throughout history.
The main objective of this annual celebration is to reflect on the ways in which the voices of women have been silenced or marginalized throughout history, with the purpose of creating a more inclusive and equitable society.
It is about promoting gender equality
UN Women, the United Nations organization dedicated to promoting gender equality and the empowerment of women, defined as the main theme to commemorate this day: "For an inclusive digital world: Innovation and technology for gender equality"
It is evident that there is a digital gender gap that leaves women and girls out of strategic areas of education, technological innovation and job placement.
In many parts of the world, women are less likely to own a smartphone or computer, perpetuating existing gender inequalities and limiting women's economic and social mobility
But the challenge goes further
Even when women have access to technology, in many cases, they also face additional barriers to use it effectively.
This happens due to little access to the development of digital skills that are necessary to navigate on platforms in online and use digital tools.
Technological gap in Latina women
The technology gap that Latinas face in the US is a significant barrier to participation in the economy.
Latinas are less likely than other groups to have access to the Internet, own a smartphone, or use technology, limiting their ability to access information, connect with others, and pursue economic opportunity.
Among the main factors contributing to the technology divide are
The cost of technology.
Lack of access to training and support in digital literacy and the language barrier (many online resources are only available in English).
Aspects that restrict the ability to participate in other areas of life, such as accessing health care, managing finances, or staying informed about important news and events.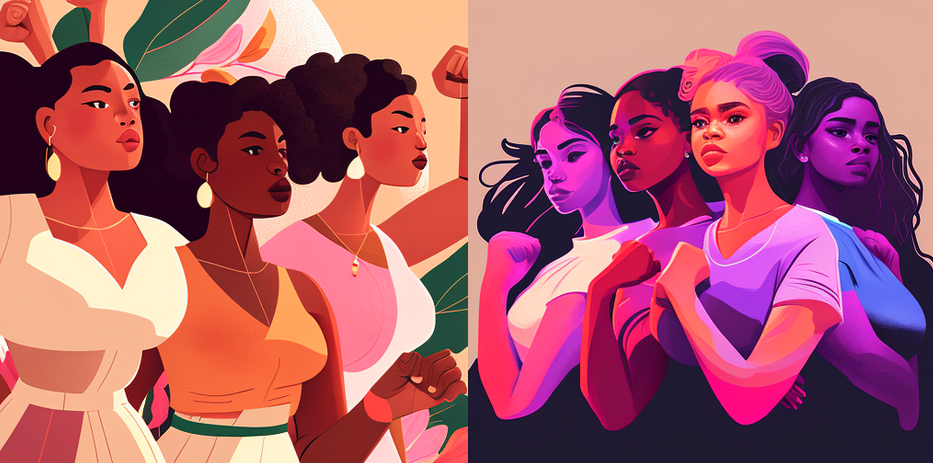 Why an inclusive digital world?
Internet access remains low in the world's least developed countries at 32.9%.
In terms of mobile phone ownership the digital gender gap is most pronounced in South Asia where women own 26% less likely to own a mobile phone than men.
It is estimated that 4 out of 10 women in Latin America and the Caribbean are not connected and/or cannot afford effective connectivity (Internet access, availability of devices and basic skills for their use).
Today, 68% of men, compared to 62% of women, regularly use a personal computer and the Internet, 33% of men and 18% of women regularly install software on their devices, and 47% of men and 35% of women use online banking.
Although women account for more than half of the total number of graduates in the world, women continue to be underrepresented in the science and ICT sectors.
Of the total labor force, with percentages that vary according to the type of employment, they represent only 8% of the people who work in the software industry.
On the other hand, women around the world face harassment and abuse online, which in many cases discourages them from getting involved with technology, being more likely to suffer this type of harassment than men.
The importance of closing the digital gender gap would undoubtedly have significant effects, not only on women but also on the communities in which they live and on the economy as a whole.
Economic independence: inclusive digital access enables access to information, sources of resources such as online jobs or even opportunities to start businesses, giving women economic independence.
Health and education: by giving women the opportunity to use ICTs, they are given the chance to broaden their knowledge and achieve academic achievement, in addition to allowing them access to health services other than conventional ones.
Women's empowerment: ICTs are a necessary channel to promote women's empowerment; Not only are women's organizations sharing information, networking and organizing movements or campaigns, but in general they are a platform for self-expression and connections.
Women's history month
Women have made significant contributions to science, technology, art, literature, and many other fields.
This month, we can celebrate the groundbreaking achievements of women who have set milestones in science, art, politics, and economics.
March 8, 1908 marked the history of labor and union struggle throughout the world: 129 women died in a fire caused by their employer at the Cotton factory in New York, United States, after a strike and occupation of the factory.
They demanded the same rights as their male colleagues: the same salary for the same task and reduced working hours.
On May 3 of that same year, a Women's Day presentation was held in Chicago, a prelude to the first National Women's Day celebration in New York on February 28, 1909.
In this context, a year later, in 1910, the Second International Congress of Socialist Women was held in Copenhagen, the capital of Denmark.
With the central theme of universal suffrage for all women, the leader of 20,000 Clara Zetkin officially proclaimed March 8 International Working Women's Day in honor of the women who died in the 1908 strike.
In 1977, the General Assembly of the United Nations (UN) officially designated March 8 as International Women's Day.
Then, in 2011, the centenary of the establishment of this commemorative date was celebrated with the premise of Gender Equality and the Empowerment of Women.
This month also brings visibility to the ways women have been marginalized and excluded from history: Women of color, LGBTQ+ women, and women with disabilities have faced even greater barriers to recognition and representation.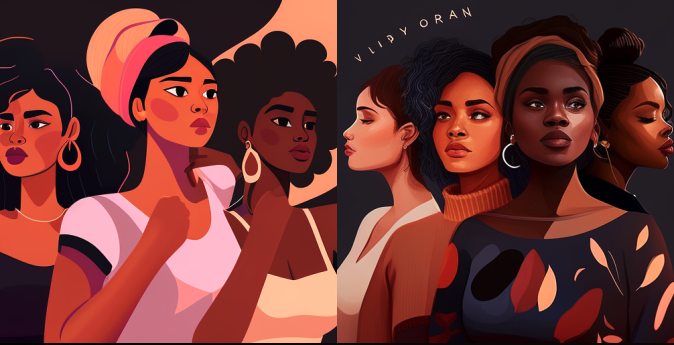 Visibility must be a priority
Many organizations around the world are working to address this historic inequality by centering the voices and experiences of marginalized women and providing support to provide more inclusive and diverse experiences for new generations.
Another important aspect of Women's History Month is to recognize the challenges they continue to face today and for which they are disproportionately affected by economic and social inequalities:
They are more likely to work in low-wage jobs without paid sick leave or benefits.
Women are also more likely to take on caregiving responsibilities, which can make it difficult to balance work and family responsibilities.
Disproportionate burden of domestic and unpaid work that falls mainly on women and girls.
Workplace violence.
Child marriage.
Harassment and sexual harassment.
Gender stereotypes.
Discriminatory laws, practices, uses and customs.
The economic, social and political empowerment of women is crucial for the development of any country and has become a critical issue worldwide.
There is growing recognition that gender equality is not just a human rights issue, but is also essential for sustainable economic and social development.
Education and skills training are essential for women to access better paying jobs, start their businesses and become financially independent.
In 2023, there is a growing emphasis on the importance of digital skills training.
For this reason governments and NGOs are partnering with private entities to provide women with digital skills training, allowing them to access a wide range of employment opportunities.
Access to finance is another critical factor in the economic empowerment of women.
For decades it has been identified that women face barriers to access financing than men.
Although there is still a long way to go, it is important to recognize that today there is access through microfinance and other financial products designed specifically for women.
Likewise, part of this empowerment is the social aspect that materializes by guaranteeing that women have equal access to:
Education
Medical care and comprehensive reproductive health services
Political participation and decision-making, promoting political participation and increasing the number of women in political leadership positions, including in parliaments, local governments and political parties.
In 2023, it is increasingly recognized that gender equality is not just a matter of human rights, but is also essential for economic growth and social stability.
Governments, NGOs and private entities are taking steps to promote women's social and economic empowerment, including access to education, finance, healthcare and political participation.
These efforts will help create a more equitable and just society where women can thrive and reach their full potential.